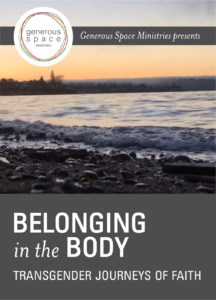 Belonging in the Body asks transgender Christians to talk about their faith journey, and they do so with deep insight, grace, and love. This video is an excellent and important resource, and three Regional Councils have offered a donation to Generous Space Ministries, the producer, so that your community of faith can access this free of charge. This is part of the Affirming journey that Northern Spirit, Living Skies, and Prairie to Pine Regional Councils are currently on.
It is also intended to help delegates to the fall online Regional Council meetings learn more about the full inclusion of trans, non-binary, agender, and Two Spirit people. At those meetings delegates will be voting on a church-wide Remit to change Basis of Union wording about ministry personnel from "men and women" to "all people".
Please find more information on ordering here, and watch the trailer here. When ordering access to the streamed video, please mention that you are part of Northern Spirit, Living Skies, or Prairie to Pine Regional Council. If you wish to pay the $10 fee, you are supporting Generous Space's work further.
If you need to access the video as a download because of limited connectivity, please contact Affirming staff support  Julie Graham at jgraham@united-church.ca  Unfortunately, a DVD isn't available at the moment but we could discuss how to do that. And if you'd like to plan a video party, let us know so we can promote it!